My Retirement Diary
For "why this diary," please see About My Retirement Diary. Click on images to enlarge. Hayward Zwerling
________________________________
5/27/2023: blog work (with emotional insights), theater
Yesterday I wrote and posted my blog posting on "Moral Injury: A Physician's Premature RetirementMoral Injury: A Physician's Premature Retirement.
Sometimes when I write these articles, there is a back-and-forth between writing, writing, writing, research, writing, research, revision, revision and finally having the computer repeatedly read it to me until it sounds right.
The moral injury article came out in one stream of consciousness. All I had to do was keep writing (mostly dictating). Of course, it required a lot of revision, which took all day, but the basic story was there in the first version. It was helpful to write this as it gave me insights into why I retired when I did and made clear to me that it will take time to get past the experience of working for corporate medicine and as a cog in a dysfunctional healthcare system.
So far, I've received some very nice feedback from some readers and KevinMD wants me to create a shorter version, (1000-1500 words) for their KevinMD website. I am not certain that will be possible as the article is 2000 words and I already have attempted to shorten it.
I went for a lovely bike ride this AM, two hours, listening to Leonardo da Vinci. Repeatedly the author states thatLeonardo's interest in art and science worked synergistically for Leonardo. The author also repeatedly stated that Leonardo started but never finished innumerable projects – supposedly because they were not perfect.
In the afternoon we saw Evita at American Repertory Theater and then ate dinner outdoors at Henrietta's Table in Cambridge with Jean and Bob. The play was highly polished with innovative staging and high quality acting. While there was one amazing dancing scene of a man and woman doing a tango which wast was amazing and beautiful, the play (opera) mostly left me uninspired and I did not learn anything. Yet again, it appears that the ART believes it primary mission is to send productions to Broadway. I believe the ART's mission should be to push the boundaries of theater, not simply to create yet another Broadway production using an old tried and true formula. I want performances that are emotionally resonant and/or challenge my preconceived notions and/or shows me art as it had never been done before and/or teaches me something. ART is repeatedly (mostly) doing the same thing over and over, either Broadway bound eye candy of formulaic stories of people who have been historically underrepresented in history and/or the arts. I expect so much more from ART and have now begun to look at other theatrical options in Boston area. I have been intrigued by the Central Square Theater's alliance with MIT to bring since to the theater and am now also a season subscriber at CST.
Hopefully tomorrow I can begin repairing and repainting Elly the Elephant, who is now disassembled and in my backyard and basement.
________________________________
5/24/2023: creating, exercise, spouse time, affirmation
Today was a great day.
The dogs woke me at 5:30 AM. I then decided to finish my new blog posting. It needed some final editing then  I use DALLE to create an image of a person descending down the rabbit hole. I had to make some repairs in Pixelmator but in the end it looks good.
The blog is entitled "The Republican Party's Path to Power is Predicated on Political Paralysis, Societal Mayhem and Worse" In it I again state the the Republicans have adopted the political tactics of fascists. I have been writing about this since at least 2019.
Later in the day, I saw a tweet dated 5/23/2023 7 PM from Bill Kristol who is the "godfather of neoconservatism" and one of the intellectual pillars of conservatism who wrote:
"The American Right seemed at first to be going fascist slowly, but now seems to be doing so all at once."
It was reaffirming to read that Kristol agrees with my ~4 year tirade that the GOP has gone full-blown fascist. I know that many of my friends and readers think I have gone of the deep end.
At 10:30 AM Gail and I installed her paintings and my creations / frames in the Inside Out Gallery window of CVS in Davis Square. For both of us, it was heartening to hear people say pleasant things about our work. One person wanted to buy her framed painting "Ode to Sargent" and then he wanted to buy her brown gemstones in my compression frame. Neither are for sale as Gail wants to keep the former and Calder wants the latter. And Sierra wants the other gemstone painting in the swoosh frame.
After Inside Out Gallery I went for a two hour bike ride, listening to Leonardo da Vinci by Walter Isaacson. Leo was a vegetarian and, apparently, all-round great guy and painter and sculptor and architect and mathematician and physicist and musician and builder of musical instruments and anatomist and physiologist and scientist and court entertainer and … The list goes on and on
Also today, my submission to Doximity was finally posted. I wrote it in November and it was about my impending retirement in December 2023. So far I've received a dozen comments, all of which are very pleasant and wishing me the best.
After dinner, we watched an episode of Ted Lasso which was fantastic. (Colin was outed in a pleasant way).
Then we went  to the Inside Out Gallery window at night, and we saw a spectacular rainbow over our house. 
And the Inside Out Gallery display looked great.
So it was a great day and the question is why. I think it was because many people indicated that some of the things that I had said, or written, or created had value. I also got him some exercise, I learned about Leonardo da Vinci and I spent sometime meaningful time with Gail.
Conclusion: The components for a great day include creativity, exercise, learning, friendship, and an affirmation by others that "it is good."
________________________________
5/23/2023: family vacation wrap-up, gratifying comments about my sculptural work, a new blog posting
Family vacation is done. It was very enjoyable spending time with the kids/spouses in Santa Barbara. The male half seem very happy with their career paths. The women half, although equally successful, seem less enamored with their career path (possible they find it too stressful.)
Baby Z (the current placeholder name) is due in late August. I still haven't figured out how to get to Napa, where to stay, and for how long when Baby Z arrives.
Yesterday I disassembled Elly the Elephant. I intend to rebuild her entire upper half with pressure treated lumber.
I started disassembling her at 8AM and got her into my backyard and returned the rental truck at 7 pm.
I heard a few nice stories and words from the people passing by. One woman, who lives adjacent to George the Giraffe and Big Poppy, told me she frequently hears children laughing in the morning. Another asked me to repaint Elly yellow, as the mothers in the area have christened the Somerville Community Path between Elly and the next cross street as "Yellow Elephant Road" and have taught their kids that the Yellow Elephant Road is a safe venue for them to play. Many thanked me for Elly and I reassured many others that she will return before the fall. I wonder if maybe I should do the reinstall and have an Elly birthday party on/about 9/26 (my mom's birthday.)
Although I am a bit intimidated about rebuilding Elly the Elephant, it was very gratifying to hear that she and my giraffes across the street have brought so much joy to so many.
On the plane ride back, I wrote my first draft of a blog posting tentatively titled  "The Republican Party's Path to Power is Predicated on Political Paralysis, Societal Mayhem and Worse." I believe it is an insightful narrative as to why Republican federal politicians do as they do (obstruct) and thus has prognostic value. Hopefully I can finish it later today.
________________________________
5/18/2023: a dream, a family vacation
I awoke from a dream today:
In the dream I was at my office during the last day or two prior to my retirement. I ran into a physician who worked at the same institution and told him I was leaving and mentioned that I thought the demise of the healthcare system was a consequence of the fact that non-physicians now controlled all aspects of the healthcare system see CHIPHIT. This physician told me that there was a group of physicians who met regularly to discuss social issues and said I should come and discuss (?give a lecture) about my experience but he implied I should not be too negative about the institution. I explained that I would consider the invitation but I was angry about my experience (moral injury) and was not sure I could give a lecture if I must adhere to that guideline. In the dream I note that I was very happy that I would retire in the next 1-2 days. After being awake for 5 minutes, I was also truly surprised at how angry I was about the way the institution destroyed my ability to provide healthcare.
Yesterday we had a lovely day in Santa Barbara with family, and their dogs Tiger and Harper. In the morning we all (including the dogs) walked to Santa Barbara beach and then found a restaurant for breakfast. In the afternoon we drove to the Funk Zone (no dogs) and found a Mexican restaurant for lunch. For dinner at our AirBnB, Gail made a lovely Greek salad and Chris grilled and spiced the chicken – which was excellent. But the best part of the day was the post-dinner wide ranging discussion mostly about our life and our short term futures, while sitting around a fire pit. Gail and I made it clear we love living in Somerville and won't move to CA to be closer to the kids but may rent/buy an apartment to make it easy for us to visit. I tried to explain to the kids that I have a fulfilling life in Somerville, lectures to attend, theater, woodworking, it is a real community, and I'm do not want to give that up to become a babysitter for my grandkids.
________________________________
5/17/2023: Elly the Elephant is hurting, Political angst is rising, small victory.
Yesterday I discovered that my sculpture Elly the Elephant has water damage where three 2×6's are laminated together and create a horizontal surface where water can pool. I was very discouraged by this. I have, reluctantly, decided I need to replace the pine 2x6s with pressure treated lumber. The lower components and the ears are pressure treated lumber. The trunk is pine – if it shows no water damage, I won't replace it with pressure treated lumber as there is nowhere on it where water can pool.  All components of the giraffe sculptures are pressure treated lumber.  I had assumed that the pine wood would not rot as it was primed and painted with several coats of exterior paint and I did not think that water would sit on any spot for any length of time. Damn!!! I should be able to dissemble her myself, as I had repeatedly assembled and disassembled her alone in my backyard during her creation. I will need to rent a truck to get her disassembled components home. I put a sign on her trunk that says people should not lift her trunk and that she will soon be leaving for R&R (repairs and repainting.) I tied a string to the  trunk to discourage people for lifting her trunk. People will be disappointed when she is gone but I need to ensure she is structurally sound.
Damn, damn, damn. This will be a sizable project and hopefully the Somerville Police will not interfere.
I posted a graph and article to my blog that show that over the last three centuries it is the natural history of countries to divide into every smaller geographic units and
the underlying reason provides a rational basis to divide the USA into the Red States of America and the Blue States of America. The Red politicians are pursuing cretin-esk policies which ignore science, medicine, common sense, democracy, voting rights, personal freedom, rational public policies – if Red America politicians want to continue to kill Red Americans (e.g COVID mortality rates, firearm death rates, overall mortality rates) then they should continue to enact moronic legislation (more guns, less education, less public health, less self-rule), BUT LEAVE ME ALONE. I believe America's only option to end political paralyzation is to amicably deconstruct the USA as the MAGAmaniacs will never allow Blue America to live a life according to our values and our electoral system and Supreme Court are structurally rigged against Blue America. Of the last seven Republican Presidents only three won a plurality of the total votes cast. The process of electing Senators and House members are designed to favor the less populace states. Concurrently the Supreme Court has ruled corporations have the rights of individuals with respect to campaign contribution and free speech (pathetic and anti-democratic), politically gerrymandering is legal, Supreme Court precedents are now optional, and the only legal theory that matters is "originalism" which is intellectual bullshit. This is not the America that I was hoping to leave to my kids.
My political angst is increasing daily. Fuck!
Fortunately I was able to repair the outside faucet with a new sillcock and I was able to attach the new sillcock to the house's  water supply. This little project gave me a sense of accomplishment.
We are on our way for a 3.5 day family vacation in Santa Barbara with the kids/spouses/dogs. THAT is good news!
________________________________
 5/14/2023: 
Yesterday I began listening to Walter Isaacson's book Leonardo da Vinci on my bike ride. Leonardo perfectly embodied today's mantra of combining art and technology, which is an interest of mine.
Today, I got in a pre-dawn bike ride while listening to the birds and Leonardo da Vinci.
And I saw the sunrise.
________________________________
5/13/2023: walk, woodworking2, social stuff, moral injury
 Woodworking2
Today was Porchfest in Somerville (the City of Somerville sponsors a lot of spring/summer/fall events) and my original plan was to walk the dogs, woodworking from 9 AM-noon then Porchfest from noon-2PM. I did walk the dog and was woodworking by 9:30 AM however, I was so  engrossed in my woodworking that when I looked up, it was 1:30 PM. I decided to skip Porchfest and finish this stage of the project.
Although my woodworking today wasn't perfect, it succeeds in conveying the image in my mind's eye. In this video, the runners (maple) and loop (oak) are nearly finished. The chair is MDF and will be replaced with walnut but first I need to take some measurements on a neighbor's 3- and 5- year-old.
I had a lot of fun making this project, hopefully I won't screw it up in the future. I still have to figure out some of the construction and sizing details.
Beautiful spring day
I walked to the supermarket at 2-2:30 PM and the streets were swarming with young adults in summer attire moving from venue to venue. (The semester is nearly over.) Whenever we have the first few a beautiful days in Cambridge Somerville, in April, or May, after the winter, the streets are teeming with young adults out enjoying the end of spring weather. It is always a delightful ambiance in the Boston area when this happens.
Social
This evening Bob came over for dinner after he was done listening to Porchfest. It is always interesting to hear his thoughts.
I received an email from Suetta to again thank me for having created ComChart (she was the first physician to purchase it ~2000) and how it made it much easier for her practice medicine and that it was better than any electronic health record she used subsequently.
Moral Injury
Suetta also raised the issue of "moral injury" from having been a physician. This is the second time a physician has brought this to my attention.
Moral injury occurs when we perpetrate, bear witness to, or fail to prevent an act that transgresses our deeply held moral beliefs. In the health care context, that deeply held moral belief is the oath each of us took when embarking on our paths as health care providers: Put the needs of patients first. That oath is the lynchpin of our working lives and our guiding principle when searching for the right course of action. But as clinicians, we are increasingly forced to consider the demands of other stakeholders—the electronic medical record (EMR), the insurers, the hospital, the health care system, even our own financial security—before the needs of our patients. Every time we are forced to make a decision that contravenes our patients' best interests, we feel a sting of moral injustice. Over time, these repetitive insults amass into moral injury… The difference between burnout and moral injury is important because using different terminology reframes the problem and the solutions. Burnout suggests that the problem resides within the individual, who is in some way deficient…
Prior to quitting the career I loved, I had sent innumerable emails to the hospital president and other senior hospital bureaucrats explaining that the way the practice was being run made it impossible to take care of my patients properly. I pointed out to them that 80% of their professional staff had resigned; but their response was either "we've got this under control" or "we'll talk about this in the future." These communications span the last few years – all to no avail.
Ultimately sent an email to the hospital president which included:
I am retiring 2 years prematurely because institutional constraints at the [facility] has made it impossible for me to provide care to my patients in a manner that meets my professional standards while simultaneously inducing an unacceptable level of stress which occurs when I am unable to meet my own standards. I believe it is for similar reasons that 3 other physicians and one NP have already resigned from the [facility]. 
I now understand that the reason I retired from medicine two years ahead of my planned schedule was in fact an attempt to protect myself from additional "moral injury."
I am glad I retired when I did. And my wife has commented many times that I am much less "stressed." I also wonder if the reason I left the MIT Grand Medical Hackathon prematurely was partly a protective mechanism from my previous "moral injury."
________________________________
5/12/2023: social justice, book review, cycling
Social Justice 
As my prior attempt to get the colleges to advertise their student theatrical productions to the Cambridge and Somerville Council on the Aging (see 4/25/2023) does not appear to have been effective, I sent this to the Boston Globe:
Letter to the Editor of the Boston Globe,
Since retiring six months ago, I have attended several free or low cost student theatrical productions at MIT and Harvard. While the quality of these productions range from fair to excellent, all exuded passion and were well worth my time. Unfortunately, discovering the "what, when and where" about these student productions takes a bit of effort.
I would like to propose that the Boston Globe create a weekly series dedicated to promoting the numerous college student theatrical productions which are open to the general public. 
This series would be particularly beneficial to seniors and others with limited disposable income. In addition, it would be a win for the performing students as it would result in an increased attendance, foster stronger college-community relations, and enhance the presence of "theater" in Boston.
We shall see if anything comes of it.
Book Review 
Beautiful day today, sunny and in the low 80s. I just got back from a two hour bike ride during which time I finish my book:  Checkout 19: A Novel read by the author Claire-Louise Bennett. The book is unlike any other book I've read, although I'm not a big reader. It's more like a stream of consciousness, fictionalize autobiography, the story begins when the protagonist is a young child, and  ends as a young adult. The narrator and protagonist discusses books, relationships, creativity, authors, how we want to present ourselves to others vs who we really are. There really was no plot other than the story (approximately)  chronologically follows the life of the female protagonist, mostly. Mostly. And the author uses redundancy a lot.
I looked up some reviews, which said:
"a book that refuses to abide by conventional expectations of storytelling… as it loosely chronicles its heroine's journey from school … to university and beyond."
"Checkout 19 is about a writer's fervid encounters with writing, her own and others"
"Reading Checkout 19 feels (like)… watching (the author) reminisce from within her own brain. (and)… to a life lived half in reality and half in the imagination, literature, and misty realms of self-reflection… (and) the novel (is) an extraordinary exploration of selfhood and self-expression…"
I am glad I listened to the book, but I would only recommended for people who are avid readers, and those who like looking-up unknown words.
I tweeted out a link to this diary/blog with hashtag "#retirement."
Miscellaneous
I did the senior walk 9-10 AM and there were about 7 people.

Drinks this evening in Mary's backyard with some neighbors
I did not have time to do woodworking today, although it was my intention when I awoke. There simply wasn't enough time. This is the status of the baby rocking chair as of this moment and a video: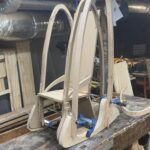 ________________________________
5/11/2023: cycling, reading, and familial conflict
Reading and Cycling 
While cycling (1.5 hours) this morning and listening to Checkout 19: A Novel read by the author Claire-Louise Bennett, this quotation came up.
"Where they burn books, they will ultimately burn people as well."
It was so powerful, as I had recently  Tweeted this photo, that I stopped 
cycling so I could look up the source, which is Heinrich Heine (1797–1856) in his 1820 play "Almansor".
The author Claire-Louise Bennet then goes on write…
"…burning them (books) is especially appalling, is undoubtedly a sacrilegious act that stirs up and unleashes malignant and merciless forces in humankind which twist and maim and sully and eventually eliminate everything they search out …"
That so resonants with me, given that book banning has now become part of America's political culture and Trump is now attempting to retake the White House. Distressing and depressing. America has so regressed.
Family Stuff
I had a conversation with Gail regarding a conflict we had which likely stems from the fact that I am now "home all the time" (her words) and this has impacted her routine. After talking, we agreed that we both need to recognize my retirement effects both of us and we both need to remain cognizant of this when interacting.
Miscellaneous
Spent a few hours working on the baby rocking chair. Made some progress on the runners and oak loops.
Gail and I went to Moeca for drinks/supper. They have great cocktails and interesting food.
It was a very good day, a nice combination of exercise, creative activities, meaningful conversation, and dinner cocktails.
________________________________
5/9/2023: Cycling, social, blog work and insights into my creative process
Cycling
Went for a 1.5 hour/16 mile ride shortly after sunrise. Too cold for my preference at 47-50°F. Even though I was dressed appropriately, when I got home, I needed a hot shower to ]warm up. My cycling preference temperature is 55 to 75°.
Reading
I began a new book on my bike ride: Checkout 19: A Novel by Claire-Louise Bennett. It was on the list NY Times Book Review's 10 best books of 2022. I am only about 2 hours into the book and it is definitely unusual in its construction of the story. I am not yet certain if I will finish it.
Social
I attended some of our Somerville Council on Aging Men's group yesterday. We discussed 
what can the new retirees learn from the old retirees

why men's circle of friends contract with retirement and that's not true for women.

 

Healthcare, quality and cost

And Art recommended the Tufts Learning in Retirement Group, which I signed-up for.
Blogging
I also  spent a few hours tidying up my HZ Creations website and re-writing my "artist statement." This was clearly a useful exercise as it helped clarified in my own mind why I create objects. Bottomline: I create best when there is an "instigator" which stimulates me to create: a need, an unusual piece of wood, or idea that "must" be physicalized.
________________________________
5/9/2023: cycling, reading, socializing, and thinking about "why I create."
Cycling and Reading
Went for a 1.5 hour/16 mile ride shortly after sunrise. Too cold for my preference at 47-50°F, even though I was dressed appropriately. When I got home I needed a hot shower to warm up. My preference is to cycle when it is in the 55 to 75°F range. But I live in New England. While riding I started a new audiobook "Checkout 19: A Novel" by Claire-Louise Bennet. It is far too early to decide if this is going to be an enjoyable book. The book was recommend by The NY Times and the New Yorker, so it should be good. I was considering Walter Isaacson's Leonardo da Vinci – maybe next.
Blogging
This morning I re-wrote my artist statement and clarified in my own mind why I create objects. This was a very useful exercise. You can read it here.
Socializing
This morning I will attend the Somerville Council on Aging Men's monthly meeting. 
________________________________
5/8/2023: cycling, reading, local politics
Cycling and Reading
Woke up early and was on the bike at 4:40 AM, 45 minutes before sunrise. Delightful ride, 24 miles over two hours during which I finish my book: Emily Wilde's Encyclopedia of Faeries: Book One of the Emily Wilde Series by Heather Fawcett. It was well acted and an enjoyable story which is partially detailed in the below entry. Total escapism from today's stressful world. See NY Times review
Politics
I attended the Somerville City Council meeting for Ward 6 from 7-8:30PM. Very well attended. Clearly, all the city employees who spoke are dedicated and enthusiastically committed to their responsibilities. However, it is also clear from the Mayor's comments that the city finances limit what the city can actually do for the citizens. It is equally clear that the city is listening to the citizens desires.
________________________________
5/7/2023:  Somerville Open Studios at our home, cycling, recognition
Cycling and Reading
Started the day with a 24 mile /2 hour bike ride, listening to my book, which is still enjoyable. I am at the climax of the story.
Emily, the main character and likely "on the spectrum", has freed the fairy king from his tree prison. Her "reward," which cannot be rejected, is that she is to be promptly married to the fairy king. Emily, who is a young academic who studies "fairies" (I am sure you already know that "dradology" is the study of fairies) has been unable to escape from the fairy king's winter castle and the wedding is imminent! Back in the town where Emily was visiting, her associate, Wendell Bambleby who is also a dradologist, (he had recently proposed to Emily but she has neither accepted or declined) has mobilized the the entire town to rescue Emily. Complicating the marriage proposal is the fact that Brambullbee is also a fairy king who was exiled by his mother – of course Emily is aware he is a fairy as she is an excellent dridologist.  Very exciting to say the least. I will finish the story tomorrow on my bike ride.
Recognition Statement 
The Boston Globe published my tribute to my former nurse, Michelle Iadarola (one L, not two), which made her very happy.
https://sponsored.bostonglobe.com/studiob/2023-salute-to-nurses-letters-c-d/
Circle Health Diabetes and Endocrine Center
Michelle Iadarolla, Circle Health Diabetes and Endocrine Center
Michelle is a model nurse with outstanding clinical judgement and the patience of a saint. She also has a temperament and determination to battle on behalf of the patient when a pharmacy or health insurance bureaucrat throws up a roadblock or makes a decision to the detriment of her patient. I retired recently. When I told my patients I was retiring, many of them asked if Michelle, who is an LPN, could be their "doctor." Others told Michelle that they want her to continue being their nurse, and asked if they could transfer their care if she decided to work in another clinic. I met many very dedicated nurses over my 30-year career, and I honor them all. But none were better than Michelle.- Nominated by Hayward Zwerling
I am very happy that I spent the time writing this. It clearly meant a lot to Michelle and her mother.
Somerville Open Studios
8 PM
Gail and I had a great time today doing Somerville Open Studios. The weather was perfect, low to mid 70s and sunny all day. Yesterday (Saturday) we had about 150-200 people, today we had 110 people, today I counted. This is about half of last year's crowd probably because there was a concurrent festival in Harvard Square.
Many people who visited our driveway, backyard, and She Shed "gallery" told me they love the sculptures on the Somerville Community Path,  Elly the Elephant and George the Giraffe & Big Poppy. and that the sculptures provide entertainment for both their kids and themselves. One told me I was a "minor celebrity" because of those sculptures. Another person asked me if I would be interested in doing a show for my woodworking or frames, I think the latter but am uncertain. Of course I said I would be interested and she told me she would get back to me. We shall see.
During the two day event, I talk to a lot of the attendees and gave them back stories about my furniture, sculptures, and frame creations. This definitely added context and was entertaining for them to hear the how and why stories associated with my creations.
I met a couple during our event, Marty and Ellen; he's recently retired and I suspect we would enjoy getting together. Both of them cycle regularly together. I invited Marty to become a member of my rembrunch (Relatively or Retired Elderly Men's Brunch) group, which meets monthly. I really need to get our membership up to 4, 5, or 6 so it is sustainable. Unfortunately one of our members is dropping out so he can spend more time on his political work.
Both Gail and I were exhausted at day's end, as it was a long weekend and we were also "on display" along with our creations all day. But it was a great day.
________________________________
5/6/2023: Somerville Open Studios at our home
Somerville Open Studios
Today was the first day of Somerville Open Studios. Both of us had done prep-work for the last few days. We started setting up around 7-8 AM and we're ready at noon (event was scheduled from noon-6PM)  although a few people showed up at 11:30 AM.  The weather was perfect 65 – 70° and sunny all day. The crowds were good, but only 50% of last year; today we had about 150–200 visitors. Gail sold one frame-painting combination. Several people thanked me for installing the sculptures George the Giraffe & Big Poppy as well as Elly the Elephant on the Community Path. Two people told me that in their mind's eye those sculptures are the "symbol" of Somerville as they are creative and done without "official" approval." Another said the Giraffe is used as a regular meeting spot for her friends. Many commented on the creativity of my woodworking.
I was very happy that Jessica came to see our display, with her entire family in tow.
Maria and Dan, who I haven't seen since she stop working for me 15 years ago, also came by. I was so happy they did.
The last people arrived around 5:45 PM however we had started to disassemble everything about that time.
All in all, it was an excellent day and it was fun talking to everyone about my creations and their lives.
________________________________
5/5/2023: woodworking, walking
Again spent all day finishing the "Is it the Frame or Is it the Painting" frame. It is far from perfect but the manufacturing and design errors will not be seen by most people and they do not compromise the concept of the frame.
Tomorrow is Somerville Open Studios and we are ready.
Went for a Senior walk and I directed the group to Alex's Place on the Tufts campus. Talked a lot to Chuck and Jo who moved back here from Berkeley.
________________________________
5/4/2023: woodworking
Again spent all day working on the frame that challenges the concept of "is the art the painting or the frame" by putting the frame literally in front of the painting, images above.
________________________________
5/3/2023: woodworking
Spent all day woodworking. Still working on the steam vent railings for the baby rocking chair. Most of the day was spent working on the frame that challenges the concept of only the picture is art versus the frame also
________________________________
5/2/2023: woodworking, reading, 
I spent all day woodworking.
I re-did the oak strips for the baby rocking chair, and the technique worked well. I also started working on a picture frame which explicits challenges the notion that the only purpose of a picture frame is to enhance the painting.
It rained all day, so I did not go for a walk or cycle.
I read several reviews of Heroes of the Fourth Turning, which mostly agreed with my assessment and the reviews provided insights about the play and author. I was unaware that the playwright's father was the president of a fundamentalist Christian college (like the character, Gina in the play) which was a prominent feature in the play, and it's obvious now that the playwright was mining his experiences to richly develop the play's 5 characters. The play itself provided insights into a segment of the political right which I would describe as deeply religious to the point of ignoring objective facts, morality, empathy, and humility.
________________________________
5/1/2023: reading, woodworking, cycling.
Finished reading Heroes of the Fourth Turning, which I would recommend but I need to reread parts. I was particular struck by one of the character's statement:
Teresa (very conservative ~29 years old): Liberals are empathy addicts. Empathy, empathy, empathy. Empathy is empty. Hannah Arendt says we don't need to feel what someone else is feeling– first of all that's impossible, second of all it's self-righteous and breeds complacency, third of all it's politically irresponsible. Empathize with someone and suddenly you're erasing the boundaries of your own conscience, suddenly you're living under the tyranny of their desires. We need to know how to think, how they're thinking. From a distance.
This denigration of empathy struck me as I always felt the singular difference between Democrats/liberals and Republicans/conservatives is the former experiences empathy whereas the latter does not. Only when the Republicans/conservatives experience the event first hand, are they able to comprehend how the event effected others. e.g. Nancy Reagan began to support stem cell research only after Ronald Reagan developed dementia. Jim Brady did not support gun control until he was shot (in Hinckley's assassination attempt on Reagan.)
And this…
Justin: I can honestly say that, having lived in that (urban) world, and being a thirty-eight-year-old nomad, I can guarantee that ninety-nine percent of them are willing to just be led blindly into the cave, hooked up to a heroin drip of self-satisfied digital activism and committing vile acts of self-gratification because they're told that it's important to "experience" life, when actually they're numbing themselves to the possibility of real sacrifice or any chance of an ethical life, rooted in the grit and toil of suffering in the name of Christ.
IMHO, both Teresa and Justin believe they "know" what is the "right" way to live one's life and believe they have the right to force their views on others.  As a liberal, I believe everyone should decide how to live their own life. I would not dare tell them they must believe science and adopt a secular life style. Similarly, they do not have the right to tell me I must adopt their religious values. That is the fundamental difference between us. I want to maximize everyone's freedom to choose their lifestyle. They want to force everyone to adopt their world view – which is very Talibanesque.
The second glue up of the first set of 0.25 inch steam bent oak strip seems to have worked. I glued up the second set of oak strips and will let it sit for 24 hours. Next, need to cut the runners for the baby rocking chair.
I did a little bit of woodworking on the prototyping of the dining room chairs. This project has a long way to go and it's not clear to me I'm going be able to complete the project.
I did a 1.5 hour bike ride today while listening to my story, which is still entertaining.
Did a little prep work for Somerville Open Studios, which is this weekend.
________________________________
4/30/2023: home repairs, reading, family, friends
The glue-up of the 2 steam bent 1/4" oak strips did not hold. Will try to fix what did not work, but it will take 24 hours to dry.  I am certain that four 1/8" strips will work and 1/4" thick strips would work if I used a metal strap to affix the wood to the form. 
Setup a sprinkler system for Gail. Still need replacement parts to rebuild the sillcock – which I ordered. Spent way too much time on this issue over several days trying to understand how to make the repair. I think I found the least expensive solution. 
In the afternoon, I began reading Heroes of the Fourth Turning. This is the first time in 4 decades, or maybe ever, that I am reading a play's script -and a play I have never seen. I have been hoping to see a play that presents an empathetic view of Red America and I had written to ART artistic director, Diana Paulis, twice, explaining why she should do such a production. She never answered my two emails or Tweet. The play was staged and recorded at the Wilma Theater in Philadelphia in about 2019-2021, but the recording is no longer public, probably because of Actor Equity rules. It won a Pulitzer Price and was apparently staged at Speakeasy Stage in Boston last year.  I am keeping detailed notes as I go, trying to ensure I understand the 5 characters interrelationship / their back stories. Also envisaging the staging in my mind's eye. More on this after I finish the play.
Again had a conversation with Calder about his requested bluebird house. I again told him "It is now my time." Of course, if his future daughter, due in 4 months, makes the request, that will very likely induce me to build it promptly. Calder feels a bit guilty because of the "bluebird house and the lacrosse ball incident" from 2 decades ago. Talked to Gaby and I gave her some CDC references about Covid-19 vaccination during pregnancy. She is eager to get the latest booster and it has been about 6 months since her last – I told her to discuss with her physicians. 
In the evening, we had a visit from Randy and Fred. I did the REI trip to the Wrangle St Elias National Park in Alaska with them. It is always fun talking to them about family, travel, politics, and finally Gail's paintings. Gail's Selfie series is intensely personal for Gail and I promised not to promote it beyond Somerville Open Studios this coming weekend and the planned display at the Inside-Out Gallery (Davis Square CVS window) in May.
Finally, I really should write an article exploring the idea of dividing the USA into Red and Blue entities by having the Democrats argue for the elimination of Federal taxes then creating the Union of Blue States with its own federal tax system and rules. I wrote this… United We Fall, Divided We (One of Us) Stand in 2011
________________________________
4/29/2023: home repairs, walk, blogging, woodworking
I attempted to fix the exterior faucet, without success, although I think I understand what I need to do. Will get parts from Home Depot and ask them about some options.
Did a 3 mile walk with Antigone.
Further refined the My Retirement Diary portion of my blog.
Did some work on the child rocking chair. The steam Bent Oak is not perfect, but I think it will be good enough as I laminated two pieces 1/4 inch thick and that should cause it to retain the shape and have the necessary strength. Also did some redesign work on the lower part of the rocking chair, again.
________________________________
4/28/2023
Went for a walk with Somerville Council on Aging. Phalen is our leader. Chuck & Jo were new. About 8 people today – largest group since I've joined. Unfortunately, I had to leave early to help Gail with something acutely.
Then Gail and I went for a short walk through Mount Auburn Cemetery. The plants are just starting to bloom. Maybe we will return in 2-4 weeks.
In the afternoon, I tried to do some woodworking, but found I was unable to focus so I created this page on my blog for My Retirement Diary.
And I watched most of PBS Newshour, then one episode of Mrs. Maisel.
________________________________
4/27/2023
Yesterday, I worked on a redesign of the dining room chairs . I'm still not happy with the design; as requested by Gail I added horizontal blocks of MDF between metal piping, in the upper back of the chair. Gail likes it. I'm also concerned about constructing it with sufficient precision for it to look good.
For the next prototype I will add a vertical wood panel that follows the contours of the chrome frame in the back of the chair. Although I may have a way of attaching the wood to the ?chrome frame , I'm still not confident that I can build it with sufficient precision.
Yesterday evening we went to Central Square Theater for a performance at 7 PM of Angels in America, part one. The staging was very sparse and effective and the performances were powerful. Afterwards we walked to Toscanini ice cream and both got a micro B3 flavor, their signature flavor, as they were out of my favorite which is chocolate #3.
Memory 
I have noticed that my memory is not as good as it was. I have noticed episodes of recent events that were forgotten only to be recalled when another event jogs my memory. For example, yesterday I wanted to show Gail an old brick house on Beacon street . I had forgotten that I had already shown it to her before, in particular a small front door the leads into a basement speakeasy, used during prohibition.  I think she to have forgotten she had seen it before although I am not sure about this last point. Similarly, I had a note to myself to buy tickets to Shakespeare play at Tufts but subsequently realized I had already purchased the ticket.
I'm not sure this is abnormal as I recently saw an abstract in JAMA which found elderly who were aware of their memory deficit were not at increased risk of dementia while those who were unaware of their memory deficit were at risk.
Ref: Measurement of Dimensions of Self-awareness of Memory Function and Their Association With Clinical Progression in Cognitively Normal Older Adults, JAMA Netw Open. 2023;6(4):e239964. doi:10.1001/jamanetworkopen.2023.9964
I walked to and from (2.8 miles x 2) "MITCOB BioSummit Human Health 2050" at the Broad Institute.  https://mitbiosummit.com. The MIT Biosummit 2050 conference was OK. One of the three sessions interested me. Not as good as some conferences. 
Our trip to visit Debra and Randall in DC this weekend was canceled b/o a temporary health issue.
________________________________
4/25/2023
After signing papers for will, HCP, estate planning at lawyer's office, I went for a 1.5 hour/16 mile ride today during which I began a new book: "Emily Wilde's Encyclopedia of Faeries; Book One the Emily Wilde Series" by Heath Fawcett and Narrated by Ell Potter. I enjoyed the first 2 chapters/ 1 hour of 12 hour reading at 1X. Will escalate to 1.5 X next time. I need some NOT about politics/fascism.
Working on getting MIT Harvard drama clubs to notify SCOA and CCOA of free student theater productions for seniors on fixed income. SCOA and CCOA said OK. Email sent to Harvard MIT Tufts student theater groups …
To:  MIT Musical Theater Guild, Harvard-Radcliffe Dramatic Club, Tufts Theatre, Dance and Performance Studies
I have a suggestion I think you should implement in the name of equity.
A few weeks ago I recommended that one of the seniors I walk with every Friday attend a free performance of The Bubbly Black Girl Sheds Her Chameleon Skin, presented by the Harvard-Radcliffe Dramatic Club. As it was free and this woman had little / no disposable income, she was grateful for the recommendation and walked to the Loeb theater to attend a performance in The Ex theater.
As many seniors do not have sufficient disposable income to allow them to attend theater, I would like to suggest that you email a copy of your performance schedule of the free / low cost student theater productions, which allow member of the community to attend, to:
Somerville Council on Aging 
Ashley Speliotis
Executive Director, Somerville Council on Aging
Cambridge Council on Aging
Susan Pacheco
Executive Director, Cambridge Council on Aging
These organizations have agreed to redistribute the information to seniors in their community.
If you are aware of other free/low cost artistic productions, which allow people unaffiliated with your institution to attend, please forward a copy of this email to those organizations within your institution.
Thank you,
Hayward Zwerling
Attended Soirée with Scientists at Central Square Theater to CC@CST. Had a very enjoyable conversation with Lee (artistic director) about selecting plays and with MIT cosmologist and Herman (an attendee with a biotech company ) about dark matter (95% certain it is real), origins of the universe (he doubts the universe contracted to a point). Donated some money too. 
I also signed up for season tickets to Central Square Theater. I'm happy to learn that they will do a performance of "machine learning"
I remain very conscious that I need to make an effort to schedule events to keep me busy.
Yesterday I organize my list of reading materials and it has become apparent that there is no way I'm going to be able to read all the magazine and newspaper articles I have set aside to read unless I force my self to dedicate some time every day to read, and right now, I am finding that my day is filled with woodworking, events, and cycling.
________________________________
4/24/2023
In AM, I changed the color of the inner frame from medium brown to maple and the frame now looks good.
In early afternoon, I went for a 2 hour bike ride to Bedford and had a cup of clam chowder and a too large chocolate chip cookie in Bedford. Napped after the ride.
I came up with an idea for another frame using brass in the corners (gold color in below) in front of the painting. This explicitly raises the issue "Is it the frame or the painting or both" (Gail wouldn't let me us the bouquet of flowers painting so I will use her discarded "5 decanters" painting, not shown below.)
Idea for next frame:
     Brown is frame
      Gold is 0.75" brass or copper rod. 
I think I have figured out how to build the child rocking chair in which the bottom rocker is a solid piece of oak while the loop is steam bent oak.
At the end of the day, I watched one episode of The Marvelous Mrs. Maisel then went for a 9 PM 1.7 mile walk with Gail and the dogs.
________________________________
4/23/2023
I abandoned the MIT Medical Hackathon…
The reason I did not go through with the hackathon is that the track I was on, was "sustainability." People pitched various projects, having to do with recycling syringes or recycling pill bottles, rather mundane, and uninteresting to me. The only topic that seems like it was possibly of interest was how to reduce suicide among physicians, but that was a topic I was not ready to deal with. I should've signed up for the track that was called "decentralized" healthcare, but we were not allowed to switch tracks.
Anyway, I walked a total of 10 miles that day and went home and began working on the frames which I finished today
Finished these two frames for Gail.

Calder asked me to make him a birdhouse for his backyard. He told me "it would only take a couple of hours." Again, I told him that I am in retirement and "It is now my time" – which is my retirement mantra. Maybe I will make him a frame for next season but no promises- only if I decide I want to. 
________________________________
4/21/2023
Walk at Senior Center with Valeria, Charlene, Elaine, others
Lovely dinner yesterday with Gail at Field and Vine in Union Square, Somerville. 
Also visited Somerville museum in preparation for Somerville Open Studios 2023, which we will be doing in our driveway and backyard. 
5pm MIT Hack Healthcare 
The "sustainability" track was not the right chose for me and/or I am not ready to reengage with the healthcare system.
Finished adding third layer of finish to frame this AM. 
Began 2nd swooping frame.
Yesterday prototyped new chair-not so good.
________________________________
4/20/2023
Didn't exercise on 4/17 or 18
Yesterday we had an enjoyable Rembrunch with Mark, Marc and Tony. 
Saw Dungeons and Dragons – not so good, last episode of season 4 of Marvelous Mrs maisel. 
Did a bit of woodwork.
Fixed my website by removing "ad blocking" for IHAI on my eero router, 
Added 2nd coat of finish to frame. 
Started outline on Snyder's book On Tyranny.
________________________________
4/17/2023
Gail came home yesterday and she had a spectacular trip, she's in great spirits.
I spent all day stripping down the 6 old dining room chairs to their structural component and I'm hoping we might be able to rebuild them in a mode which combines exposed steel, walnut and fabric. Here is the before and after (stripped-down) photo.
________________________________
4/16/2023
Gail comes home today from Utah
In the morning, I spent several hours putting together this picture, which I think is totally amazing and tweeting it out. It would be as if an un-retouched photo showed a person at age 1, 25 and 75 years old in a single photo.
I saw the Great Comet 1812 performed by the Harvard Radcliffe theater group. It was an impressive  production with the cast of probably 30 students and they did a very good job. Some of the singing was excellent and it was emotionally resonant. I understood a lot more of the story having recently read War and Peace (actually, I listened to it as an audio book – narrated by Neville Jason).
________________________________
4/15/2023
In the morning, I went for a 24 mile three hour bike ride.
In the evening, I had a wonderful Somerville Neighborhood Dinner at Mary's house, lots of interesting discussions, it was a lot of fun.
________________________________
4/14/2024
At 8:30 AM I walked over to do the senior walk today, but apparently was canceled.
I spent the rest of the day writing my latest article
Governors Must Prioritize Health Above Supreme Court's Unhealthful Edicts and I sent it to every newspaper. I haven't put it up on my blog. I have created an image to go along with it 
then I ran into problems with the website being too slow, and I reverted to the back up from yesterday. But I ran the website this morning at noon and it is working properly.
I took the dogs for a one and a half mile walk and now I'm supposed to go to listen to some music at the Armory.
I also went to the supermarket and the liquor store to get supplies for the Somerville Neighborhood dinner, which is tomorrow night at Mary's house.
In the evening I went to the Somerville Armory Music Center to list to Ray Montbleau.
________________________________
4/13/2023
I finished the rough work on the compression frame. Just needs to be finish sanding, stain and finished.
I also cleaned up the shop.
And I went for a 24 mile to our bike ride, I finished the book The Hobbit and started Timothy Snyder's book On Tyranny in which he lists 20 steps to take to prevent fascism.
I'm thinking of writing a letter to the editor tomorrow, for the Globe, about the need for the governor to stand up and say that she will not allow the banning of abortion option, regardless of the supreme court rulings. 
________________________________
4/12/2023
Spent most of the day reworking the fractured compression frame. I've discarded the piece that was fractured as it did not really work as I intended and rebuild a new piece. That took most of the morning and tall early afternoon when I went for a two hour 24 mile bike ride. I'm am almost finished with the Hobbit, I only have about an hour left.
In the early evening, I listen to a lecture about chatGPT4 by Sébastien Bubeck Sr. Principal Research Manager Machine Learning Foundations, Microsoft Research. In his lecture, which I believe was given that MIT, entitled sparks of AGI in early ChatGPT4 (artificial general intelligence) he argues that there are indications of intelligence and chatGPT4, although that is strong independent, on the definition of intelligence.  He recommended a book, which undoubtedly will be updated The AI Revolution in Medicine: GPT-4 and Beyond by Peter Lee and 2 more, ISBN-13: 978-0138200138, ISBN-10: 0138200130
I watched 3-4 episodes of Marvelous Mrs Maisel
________________________________
4/11/2023
More progress on the fractures compression frame, but it doesn't really look to me like the fracture conveys the sense of tension within the frame. Still have to add the bending side pieces.
Attended the monthly Somerville, men's brunch, sponsored by the council on aging. Art is the person who looks like he's responsible for organizing. He's only been doing this for three weeks. We got into a heated discussion about racism, equity and ethical politicians. Conversation was mostly between art and myself, and one of the other participants stated that he didn't understand most of what we were talking about. For our next meeting in one month, I suggested we talk about "declining number of men friendships in retirement" that should be less controversial.
I spoke to Larry and suggested that he and I do a 2-3 day bicycle trip. He states that he doesn't want to carry clothes and instead suggest that we stay at his house in the Berkshires and do rides from their returning at night. I have to discuss with Gail to see if she's interested although it might include some road writing, he states it is very safe, and that's where his son learn to ride.
________________________________
4/10/2023
Continue to work on my new frame which I'm now calling "fractured compression frame".
Also did a walk with the dogs today for about a mile and a half and a two hour 24 mile bike ride while listen to the Hobbit which I believe I listened to may be a year ago, but I'm doing it now at the speed of 2X. 
Audio speeds range from 1.25 to 2x, depending upon the level of complexity in the story and the importance of avoiding missing any spoken word.
________________________________
4/9/2023
I drove Gail to the airport early this morning for her REI hiking trip in Utah.
I spent the rest of the day working on my new "fractured compression frame" although I'm not at all certain this is going to work. Still not done.
________________________________
4/8/2023
Momentum and inertia. That's clearly a big problem. I have a problem getting started on my project of the day. This definitely applies to my woodworking and writing. Once I start, I am occupied for hours, but for reasons that are not clear to me, actually, getting started is problematic. I procrastinate. Sometimes I find that if I say to myself, "I'm going to the basement to clean up" then after that's done, I start woodworking. I don't know why this is, but it's a repeatable experience.
Tonight, dinner with Miguel/Won Me and Michelle/Steve
________________________________
4/7/2023
In the morning, I went on a City of Somerville senior walk from 9 AM to 10 AM. I met two new members, Tony and Jane and invited Tony to join me at our room brunch meeting on April 19, if he's interested.
In the early afternoon, I tested my redesigned bicycle helmet wind screen on a 24 mile/2hour ride to Bedford. It appears to work reasonably well but I wish I had a wind tunnel for formal testing.
While riding, I finished the hitchhikers guide to the galaxy and its follow up volume, the restaurant at the end of the universe.
________________________________
4/6/2023
In the AM
I steam bent some black Oak, about 3/16 inch thick. It worked well, but I haven't quite figured out how to wrap it around continuously. This was a test run. I think I'll let it dry, glue some of it off and see if I can figure out how to make it look seamless using this test sample.
In the early afternoon I road for only 1 hour with my new bicycle helmet "wind noise suppression system ".  I can still hear the birds, if I want. The right side need to be larger. 
________________________________
4/5/2023
Maybe this should not have come as a "revelation" but I now know that in order to remain busy I must make an effort and continually spend time scheduling events for me to do in the near and distant future.
Did not do much today, but wasn't bored.
Bought an office chair to replace my broken chair
And an electric steamer for wood bending
Setup to steam bend oak for baby chair
Dinner at restaurant
No exercise today
Schedule appt to see PCP in Sept
________________________________
4/4/2023
Yesterday AM I finished rewriting my article, Political Thinkers Who are Concerned That Fascism is Coming to America, based on Gail's criticisms
Late morning we met via zoom with financial advisors-they have work to do.
I was a bit bored in mid afternoon.
I sent photos to 3 reupholsters of 6 dining room chairs.
Late afternoon, did organizational work in prep for steam bending for small rocking chair project.
Yesterday PM I attended MIT Creative Arts final presentation in Kendall square from 5:30-7:30. I walked to/from presentation. It was entertaining and I was the oldest by 2 generations.
On the way to Kendall square I finished listening to Hitchhikers Guide to the Galaxy. Now listening to audio at 1.75 x normal.
On the way home, I began listening to The Restaurant at the End of the Universe. 
________________________________
4/3/2023
Saw a reading of the play Young Nerds of Color at the MIT Museum. Ehh. Walked to Kendall Square but took the T home
Spent all day writing: Political Thinkers Who are Concerned That Fascism is Coming to America because people do not appear to understand the gravity of the political world. 
Trump will be arraigned in Court tomorrow. 
________________________________
4/1/2023
Yesterday, went for a 12 mile ride with my new helmet attachment to silence wind noise. Works very well.
Finished listening to War and Peace (50 hours at 1.25) read by Neville Jason. Excellent.
Had two couples for our first 6pm dinner party since Covid. They stayed until 10:30 pm a it was a delightful evening.
________________________________
3/31/2023
9 AM: senior walk at the Somerville senior center in Holland Street with Charlene, Annmarie, Elaine, and two new walkers, Adam and Judy. We walked to the Elly the Elephant and back.
________________________________
3/30/2023
Finished Gail's frame
________________________________
3/29/2023
Yesterday I put up my posting entitled: The Beauty of Math and Physics in Nature https://www.ihaveanidea.us/math/ and I received three very nice emails from people who also have loved math.
I also had an email interaction with a friend in which I told him because of his support for Trump. I was hoping to avoid this but he kept insisting on us getting together and I really did not want to visit him or interact with him. I explained in my email that it is just too distressing for me to ignore the elephant in the room. For me, the most important issue facing America is democracy versus fascism, and I cannot ignore this imperative in the name of social niceties. I told him that I thought "our values were too different" and I also said that I thought he his wife were good people – but our values diverge too much.
Yesterday I rode my bike for the first time at the season and currently I'm in the middle of a bike ride, it's about 45 to 50°. I intend to do 24 miles today, two hours.
And I caught a garter snake on the ride… IMG_9546
I love this quote from War and Peace: "he fell ill and was laid up for three months. He had what the doctors termed bilious fever. But despite the fact that the doctors treated him, bled him, and gave him medicines to drink, he recovered." Leo Tolstoy
________________________________
3/27/2023
Today the temperature was in the mid 50s and I got on my bike for the first time this season, after resealing and inflating the tires. I did 16 miles, and it felt great to be out on the minuteman bike trail again. I am considering doing a one week road trip to somewhere.
Last night I wrote a new blog posting which I put up today: A Thought Experiment: Biden's National Unity Government with a Republican Vice President.
I'm stalled on the rocking chair as I don't like the way it looks at 1/3 scale model.
I have only 8 hours left in War and Peace (total was 50 hours.) Still enjoying the story, great reader. Tolstoy occasionally alludes to calculus. He also states repeatedly that the course of world events is not simply the result of decisions made by either Emperor  Napoleon or Alexander and could not be explained as such. Also, no one individual is responsible for the course of a war. 
________________________________
3/24/2023
Yesterday I saw this play THE BUBBLY BLACK GIRL SHEDS HER CHAMELEON SKIN  which was a joint production of Harvard Radcliffe Dramatic club and Black student union. well the technical quality of the production in terms of acting quality, singing quality and technical support were not very good, the play was all heart, and for that reason it was worth it. There's also an important story of a black girl growing up from childhood young adulthood in a white world, and how she needed to interact with the white world.
Also, today, I went on the senior walk again with Charlene, Elaine, Diane, AnnMarie.
________________________________
March 23, 2023
Since I last published my blog article on 3/17, Retirement @ 3 months I have spent time getting my website to work properly and design the rocking chair (video) and the slab dining chair. Multiple prototypes.
I think I finally now understand that the runner's radius of curvature has to ensure that the center of mass stays inside the tangent to the radius of curvature, regardless of how far the chair is tilted. That will prevent the chair from falling over. 
I created a full scale model, and a a 1/3 model, which would be the size of a rocking chair for a child and I created a new version of a chair for dining room. See pictures. 
And I mostly finished the frame although now, we may use it for one of her gemstone paintings rather than for her last self portrait. See photo
Walk6 at least 3-4 mile/day listening to War and Peace now 75% done.
Need more intellectual activity. 
Maybe a play tonight, Harvard student play at Ex-Loeb. 
________________________________
3/17/2023
I received an email from one of my readers that their spouse, a retired physician, has similar dreams as I described in the opening paragraph of my blog posting "Retirement Update @ 3 months"
Barbara is visiting for the next 2 days. Plan to do the MIT Museum and a pottery exhibit at the MFA.
Also, I sent this to the Boston Globe for their May 7 tribute to nurses. Hopefully they will publish it…
Michelle is a role model nurse. She has outstanding clinical judgement and the patience of a saint. She also has a temperament and determination to battle for the patient with any pharmacy or health insurance bureaucrat who is made a decision or thrown-up a roadblock which impedes with  the treatment of the patient. 
As I was in the process of retiring, (I am now full retired since 12/2022) a significant number of my patients asked Michelle, who is an LPN, if she would be could take over the management of the medical problems after I retired. 
In my 30 year career, I have met many very dedicated nurses, and I honor them all. 
But there are no nurses who are better than Michelle.
________________________________
3/14/2023
I sent my copies of both articles on fascism Fascism is Coming to the U.S.A. and The Negation of Expertise Precedes the Rise of Fascism to multiple magazines but I am not expecting anybody to publish it.
I finish the cutting all the wood for the latest frame, which looks great. Now on to sanding. I haven't figured out the color of the inner frame.
I'm still struggling with what to do regarding volunteer work. City of Somerville offered to allow me to help to deliver services to client but I am interested in strategic planning and with being an MD and having had an IT company and having running a private medical practice, I am certain I can a wealth of experience that would help them.
I am looking to do something in management, such as strategic planning. I am very good at coming up with creative ideas. Is there something like this I can help with?
They responded…
Hello Dr. Zwerling,
I hope this email reaches you well, firstly thank you for your interest and for reaching out. Currently we do not have a strategic planning opportunity available. We have some openings on Boards and Commission you may be interested in exploring further: https://www.somervillema.gov/besomerville
Thank you,
Luz
Boards and Commissions
Applications for some board and commission seats are reviewed by the Appointments Advisory Committee, which makes recommendations for appointments to the Mayor.
Board and Commission Vacancies
I still do not know what I want to do.
________________________________
3/10/2023
Went for a 9 AM walk with a Somerville senior walking group. They were two seniors, Charlene and Elaine. There was the volunteer from City of Somerville and there was another person who I think works on the Somerville safe walking commission who came along for ideas.
I finished both the short and long versions of my articles
Long:Fascism is Coming to the U.S.A.
Short: The Negation of Expertise Precedes the Rise of Fascism
________________________________
3/9/2023
I finished my article about fascism, or at least until I revise it. It's way too long at 29 Pages and I do not know how to shorten it. I sent a copy to the Atlantic but I'm not optimistic.
I am walking 2-3 miles when I wake up in the morning, sometimes more later.
I wrote to the City of Somerville to see if I can get on some advisory committee as a physician. They wrote back asking if I would be interested: staffing of warming center, attending Narcan, distribution events, assembling backpacks from house persons. I'm really looking for something at the management level, like strategic planning but not at the implementation level. I'm really not sure how to proceed.
________________________________
3/6/2023
Will start new routine today.
was suppose to be AM:  walk and reading, PM: woodworking.
–
After AM coffee, went for 2 mile walk
8AM-noon then 3-5 pm, fascism paper, good progress.
Was suppose to do woodworking in PM but it did not happen
________________________________
3/5/2023 
email to Mayor of Somerville
Dear Mayor Ballantyne,
I am I physician who recently retied from a 3 decade career in (mostly) private practice involving endocrinology, diabetes, and primary care.
As I begin to navigate my retirement world, I am looking for opportunities to use my acquired knowledge to the benefit of my community.
I have a very good understanding of the healthcare system and health information technology (I created a medical software company).
If you know of any opportunities within the Somerville government where my services might be of use, please let me know.
Hayward Zwerling, M.D.
Also worked on Fascism is coming to the USA (the business section)
Went for a 5 mile walk
________________________________
3/4/2023
Saw a play at ART, The Wife of Willesden. Lots of eye candy but lacked emotional engagement and too much focus on the importance of sex in a spousal relationship. Basically a play about a woman's perspective based on a story by Chaucer. Gail loved it, not me. Likely headed for Broadway.
I am still struggling with the frame for the blue jacket, did more work in Sketchup.
I am still struggling with "Fascism is coming to USA" and need to push myself on this.
________________________________
3/3/2023
Saw "Alma" at Central Square Theater. It is simply an enactment of the conflict between an illegal immigrant mother and her American daughter over expected issues and expectations which takes place in their apartment. I was not emotionally engaged.
________________________________
2/28/2023
Yesterday was a good day – busy but not too busy all day.
8AM – noon/1 PM: I again worked on my article "Fascism is coming to the USA".  Mostly doing research but no significant writing. I am mostly done with the research. Introduction is good but the "examples" section needs a lot of work. Still unclear if the article will be finished – it depends on what happens with the "examples" section.
Early afternoon: Did a lot of messaging with Calder and Gaby, now 3 months pregnant, about whether she should attend an important business conference (No.) And it all worked out well with her employer.
1-3 PM: went for a 3 mile walk with the dog while listening to War and Peace
4PM- 7PM: woodworking on hickory picture frames for Gail's paintings
7PM-9PM:  Apocalypse Now Redux.  Early career performances included a young Harrison Ford, Laurence Fishburne, Robert Duvall, Dennis Hopper.
________________________________
2/23/2023
At the Whitney in lower Manhattan, we saw Edward Hopper's paintings in and of NYC. Not so great, IMHO, and not my preferred style of painting.
________________________________
2/22/2023
Leopoldstat by Tom Stoppard was an amazing play. 
Three generations of a wealthy Jewish family from Vienna following over the years in 5 act taking place in 1899, 1900, 1924,  1938, 1955. We serially watch the family get decimated by war and antisemitism. Ultimately, the character who represents Tom Stoppard, gets raised in great. Britain are aware that he is Jewish and that his grandparents of both sides have been murdered by the Nazis. Only Jerry discovered this when he meets a long lost cousin who explains his aunt and Tom Stoppard's history.
I was crying several times through the play, and Gail was crying profusely at the end, and could not stand up for the standing ovation, the cast so deserved. 
It is a stark reminder of what happens when antisemitism again takes control over a country, as has happened repeatedly in history and what is happening in the US now.
From my prior reading about Homo sapiens and human nature, I do not believe we will ever be rid of racism, antisemitism, mysogeny, etc. We see this caste system in the animal kingdom, as the pecking order, so there must be something about it biology itself as it also manifests in humans as a hatred for people who are not exactly like you. And it gives political leaders the opportunity to rise to power simply by promoting hatred of others, which apparently is written into our species DNA.
________________________________
2/21/2023 
Drove to NYC MOMA and spent 2.5 hours mostly on the 5th floor looking and listening to music. It was fun.
Picasso is still my favorite
I love Van Gogh's Starry Night, and you can get so close to it.
________________________________
2/20/2023
Having troubles completely filling up the day, some downtime is acceptable, too much is not good. 
My original plan was to spend my mornings doing something intellectual, go for a walk or cycle  in the afternoon and do woodworking at night. What I find is  happening is I wake up around 6:30 or so then do whatever I want which depends on what which project I'm working on.
For example, when I wrote my Supreme Court article, I would wake up in the morning, sit down at my desk at eight or 9 AM and work until 5 PM, save a break for lunch, for maybe a week.
For the last week, I've been working on my Rockingchair design initially on SketchUp, then on paper than small scale models that on SketchUp. I finally figured out how to make a full scale mockup out of MDF. I started Full scale, model yesterday, and then finish that up this morning, after having done my 5 mile walk this morning. I still don't know if the chair is going to be built as I'm not yet sure how to build it or if it's structurally stable and make sure it doesn't fall forward or backward rocking on it.
I am enjoying War and Peace, which I am reading while walking. The reader (Neville, Jason) is excellent. I am about 50% through volume one and I still have another 12 hours in volume one and maybe 24 hours in volume two.
I wish I can force myself to adhere to a schedule. That was my original plan. But I find that I do what I want to do when I want to do it.
I am considering when I should write my next blog posting about retirement. Haven't decided that just yet.
I've also thought about creating a self publish book, entitled something like "radical big ideas for our politic system which nobody else has considered" with a  Preface: The political world has changed significantly and the old rules of politics no longer apply. If we want to maintain our democracy, we need to play by the new rules as they are, not by the old rules as we wish they were. Articles that I would consider including are my 
Considering writing an article about ageism, which was prompted by my creation of the artist statement  (see below) for an art exhibit I am hoping occurs with Gail's self portraits at the Inside Out Gallery and maybe at the Bromfield Gallery. Gail does not want to use it: GailArtStatement
I am also creating frames for all of Gail's painting in the Selfie series.
Tomorrow we drive down to New York City to wander through MOMA. Staying with larry and Karen and dinner at their apartment. The next day we are going to see a play Leopoldstat with Larry Green (Karen is working). Dinner out on Wednesday. And on Thursday we are going to the Whitney to see the Hoper exhibit, then home.
My recall for names was never good, but I think is worse. Also for isolated facts needed for a quick conversation. (memory)
That's all for today.
________________________________
2/17/2023
Calder and Gaby's baby girl is due late August. Calder wants a "Z" name. I like Zarella. Maybe will have baby call me "Granward."
Have created a schematic for my egg rocking chair…
Not sure I will build it. Need to create prototype to assess stability. Also, unclear how to build sections. Brown=walnut slab. Yellow=laminated oak
Not clear to me why I have stalled on building platter a la coasters.
Tomorrow I will try to finish the brass and wood frames for Gail's Selfie exhibit but I still need to buy the brass.
Still walking nearly daily, yesterday 6 miles total. And still enjoying War and Peace
Sometimes I find I have too much free time if not walking or woodworking or writing. 
I created a short version (660 words ) of my Supreme Court article as no one read the 3400 word version  .  I have learn my lesson on long articles, although I thought I needed all the references to justify the radical conclusion. 
Need to force myself into a commit to structured day:
9-11 AM: Intellectual time: reading, classes, creativity

 

1-3 PM: exercise walking cycling with audiobook

Late afternoon or early evening: woodworking

After dinner: TV woodworking
________________________________
2/14/2023
We went to see August Wilson's play Seven Guitars. The acting was very good, the play was engaging. Although I don't think I fully understood all of it, after reading about it on Wikipedia, I think it is mostly a study of the interaction of the characters.
________________________________
2/11/2023
I'm happy to report I'm making real progress on my blog article about the Supreme Court. I know nobody's gonna read it, it's too long, maybe I can figure out a way to shorten it, and I know it's not gonna change anything, but I'll feel better posting it.
This afternoon we saw seven guitars, and all yours Wilson play the acting was excellent. I can't say I understood everything, it probably needs to be see it again, and I need to read about it on Wikipedia.
In the evening we saw Batman returns with Danny Devito, Michelle Pfeiffer, Michael Keaton. I saw it in the  Brattle theater, which was the debut of the new sound system, which is very good.
________________________________
2/10/2023
In AM meeting with financial advisor, again little real progress and they again made mistakes on a form we were to sign. I am read to move on.
5.5 mile walk with Gail
Saw the play "The Heathers" @ MIT MTG. Heavy subject but student quality singing and performance. Good thing Gail chose not to attend. 
Still stuck on last section of my SCOTUS article-it is outlined but…
Tomorrow is August Wilson's Seven Guitars. 
________________________________
2/9/2023
Yesterday went to the MITCOB "tour New England through cheese" which was good
________________________________
2/7/2023
I think I'm starting to see a pattern in my retirement. It looks like my activities rotate between:
Walking 3 to 5 miles a day, now averaging 4 miles daily of the week

Working on my blog

Woodworking

Search/surveying in the web for interesting item

Watching YouTube videos for interesting items or learning how to do something.

Reading the magazines, rotating between the New Yorker, the Atlantic, New York Times, Washington post, Boston Globe,

Listening to audiobooks while walking. I just started volume 1 (24 hours) War and Peace, read by Neville Jason.

I'm also trying to plan a exhibit for the "inside out" window display in Davis Square for Gail's self portraits.

And I've been attending a lot of theater, w and w/o Gail

11/2023 The Chinese lady at Central Square Theater, very good

2/4/2023 The Thrilling Adventures of Lovelace and Baggage, experimental opera at MIT, not so good

2/6/2023 A play reading of "Machine Learning" at the MIT museum, by Francisco Mendoza. Excellent

?Jan 2023 A student play at MIT theater about harassment of a woman

 

who wrote computer games. excellent.
I still find I have some free time but not much. 
I haven't really gotten into a daily pattern. That should probably happen.
I had my first Rembrunch with Mark and Marc we're going to start out meeting monthly, next 3/8/2023.
________________________________
2/1/2023
Finished South to America by Imani Perry.  My conclusions:
Only historians are capable of understanding the details of history which are a requisite for truly comprehending what happened, why and how this affects the future.(Expert opinion matters)

Most white people will never truly comprehend what it is likely for a Black person who is living in America

Homo sapiens, as a species, are inherently tribal, selfish, and always want somebody they can look down upon, as if that will make them a "better" person. As such, the barriers to true equality are beyond legal remedy. Thus it is unlikely America will every truly be an egalitarian country.

That sucks, so all we can do is push the needle slightly in the proper direction but we will never get to the mountain top and MLK's statement is purely aspirational, unfortunately.
Well, I don't know what will happen now. We've got some difficult days ahead. But it doesn't matter with me now. Because I've been to the mountaintop. And I don't mind. Like anybody, I would like to live a long life. Longevity has its place. But I'm not concerned about that now. I just want to do God's will. And He's allowed me to go up to the mountain. And I've looked over. And I've seen the promised land. I may not get there with you. But I want you to know tonight, that we, as a people, will get to the promised land. And I'm happy, tonight. I'm not worried about anything. I'm not fearing any man. Mine eyes have seen the glory of the coming of the Lord.(https://www.afscme.org/about/history/mlk/mountaintop)
________________________________
1/30/2023
So far, I've had no problems, keeping busy, and my to do list is longer than it should be. 
The most notable thing about retirement is the complete lack of stress, a welcome change from my prior existence. 
Financially, I think we're in a good position although I'm not convinced that the advice we are getting on our allowable spending is consistent with our finances. Regardless, we will be OK.
________________________________
1/28/2023
My article about gun control, Fewer Guns = Fewer Gun Deaths, There is a Solution…, is too long and has had too little impact. I am  trying to revise/shorten it and alter the tweets and "excerpt".  I think this is called A B testing. Or maybe asking the country to treat the SCOTUS as a political entity (which it has become) is a bridge too far for today's blue state residents.
Had dinner at Jean and Bobs house. 
________________________________
1/23/2023-1/26/2023
I spent almost all of the last three days researching and writing my blog article on guns. I'm going to send out notification to my readers today. I am aware it's too long, but I don't see a way of shortening it out and retaining the logic/content.
________________________________
1/26/2023
Spent the time from 1/14 to 1/22 creating frames for Gail's self portraits. I wanted to try to create a gallery showing of 8 paintings, but she wants to try to sell them individually. Together, I think the ~8 paintings, created unique story (covid, isolation, self portrait, or, fashion, elderly women) and gallery would accept it, but I guess that's not going to happen.
________________________________
1/21/2023
Dinner at Murat and Deniz's house with Jane and Mike, it was a pleasant evening and Mike recommend War and Peace read by Jason Neville
________________________________
 1/19/2023
A second Retirement Party for me in Lowell at Cafe UTEC for retirement. MDs and others from the Tufts Medicare Advantage group, as I was a founding member ~25 years ago. It funded my office and life style. And we provided high quality care, rate 5/5 by CMS , always. It was delightful see everyone.
________________________________
1/14/2023
Heading home today
________________________________
Friday 1/14/2023
We went on a 2 mile hike, Debra, Randall, Gail, and I along the Nepali coast. It was remarkably beautiful. Unfortunately, the beach, which was where Gail and I spent four days, 40 years ago, naked, was mostly ocean as a surf was very high, and it was very little sand exposed, so we sat on the rocks, overlooking the ocean, and then hideout. 
Thom and Dell cooked dinner. We had a meaningful conversation at dinner about family and friendship. I think I went to bed at 8 PM.
________________________________
1/12/23 Thursday
The waves at our Sea Lodge Beach are now 20-25 feet. The photos did not capture the majesty, grandeur and power. I spent one hour sitting on the rocks, watching the waves come in. Powerful, or inspiring. It's somehow serene and mellowing.
In the morning, we visited the Daniel K Inouye Kauai  lighthouse and the Kilauea Point National Wildlife Refuge. Beautiful scenic sisters. Doucent told a great story about former Senator Daniel Inouye and his fathers immigration to Hawaii from Japan, in order to pay off a debt which occurred as a result of a house fire in his grandfathers home, which also damaged the neighbors home. The village seniors told his grandfather that he would have to pay $400 to his neighbor because of damage is done to the neighbors home. At that point in time, they were earning pennies today. Daniel K Inouye family was sent to America to earn money and they sent back money every year. The first year they sent back $10. After two generations, and in 1929, the guy was fully paid off. And they had a party. With World War II, Daniel K Inouye, who had some medical training, join the army fought in Italy. His entire unit of 25 men were killed safe for him. He received medals for valor, and in the hospital back in Michigan was in the bed next to Robert Dole. Apparently, Robert Dole told him he was going to go into politics and that gave Daniel K Inouye the idea.  In 1959, when Hawaii became part of the United States, he was the first representative in the house for one term, and then ran for Senator and remain senator for 35 or 39 years
In the afternoon we went on a whale watch. The best experience was seeing two adult humpback whale synchronously dive in parallel and simultaneously displaying their tail fluke, likely a courtship display. Unfortunately I did not get a photo. Also saw a mother and a 1-2 month old humpback during while the baby repeatedly breached.
________________________________
1/11/23 Wednesday
Very high surf at the beach
ATV trip. Scenery was mostly old sugarcane farm land. Some very pretty scenic vistas and a pretty beach. Too much noise and jolting ride for me. Thus it was a bit stressful driving the ATV and not  much fun for me but the others liked it.
________________________________
1/10/2023 Tuesday
Cruise and dinner along Nepali coast on a catamaran (Capt. Andy) with about 30 other people. Saw several humpback whales. Food was reasonably good and it was an enjoyable experience. Apparently the ocean was much less rough than usual. Very beautiful.
________________________________
1/9/2023 Monday
The others did not want to go down to the beach in the morning, so I went down by myself.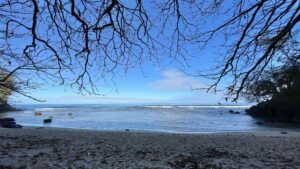 As a group, we did a boring 5 mile hike to a dam as the "forest"  was planted in row (maybe some type of old tree farm) and very flat. At the end of the hike, at the dam, there was some sort of religious shrine.
Rob cooked an elaborate and delicious farro based dinner.
________________________________
1/8/2023 Sunday
In the morning, the group climb down the cliff to the beach. Last 25 yards on step rock face. Looked a bit dangerous, but it wasn't. Very isolated and pretty. Sand has uniquely very large grain. We ate Gail's dinner. Did nothing all day, which was good.
________________________________
1/7/2023 Saturday
Arrived at House near Princeville, on the northern side of Kauai. House is on a high bluff overlooking the ocean. Beautiful view. Several albatross live near the driveway. Shopped for food, Gail cooked a meal. I went looking for a farmers market for fresh fruit. Unfortunately, farmers markets are held Saturday mornings until noon and it was too late by the time we arrived. The supermarket fruits were exactly the same as what we would get in Somerville, which sucks. The others arrive later than expected so dinner is not eaten on Saturday night and was pushed the to Sunday.
________________________________
1/5-6/2023
11.5 hour flight from Boston to Honolulu, then a short flight to the big island. Arrived at Sophie and Dave's house around 8 PM. Spent two nights with them. They took us to a very pretty beach with Caighley, their are two-year-old. It was a pleasant visit.
I got to eat some great tropical fruits, which I've never tried before. Strawberry papaya was fantastic.
________________________________
January 4, 2023
Got high with Gail for the first time in ~30 years. We had a fun time together. I explained my plan for her career, to finish the self portrait series, while I finish the framing series. Then to see if we can get this displayed somewhere as it makes an interesting collection of about six or seven paintings. We started to work on an artistic statement, something like: in the time of Covid the opportunity to interact in person with others was nonexistent. Gail loved doing portraits, and she also loved fashion and decided to do portraits of herself in various clothes that she would purchase. And the resultant collection says something about elderly women having the power to put themselves forward in the world, to appear in the way they want to appear rather than the way others think they should appear. I'm hoping I can take this back to the Broomfield gallery where she had one of these portraits on display. They did tell her that they were interested in her work. If that doesn't work, then maybe I'll see if I can rent a storefront (Gaillery) for one month and display some of her work there. I also told her that I thought she should consider attending Museum conferences. People probably know her name as she works for Matt who is well known by everybody in the field. Clearly her management background along with her museum training and experience, gives her a vision and insights which few in the museum industry field have.
________________________________
1/3/2023
From mind and machine Philosophy lecture online at MIT), I learned Data ->information->knowledge->wisdom 
And while reading Songs of the Cell, the author used "Data ->information->knowledge"
________________________________
12/31/2022
I frequently wake up early, 5 AM, 4 AM, because I go to sleep early. I can't find much on TV that I enjoy watching. I still do not like to watch stressful TV as it makes me feel like I'm back in the office. They go to bed at nine or 9:30 PM, it's not a surprise I'm going to wake up at 5 AM as I've already had eight hours of sleep.
So far, I've been pretty good about my exercise routine, walking for one or two hours every day, lately, I've been listening to Songs of the Cell and the Philosophy of Modern Music. The latter is a little bit problematic as I need to stop every three or four minutes to jump from the audiobook to the music app, so I can hear the song that Dylan is talking about.
I've also been doing a lot of woodworking, making a new frame with brass trim for my wife's paintings. I'm working on my third and final variation, and have an idea for the next frame, we shall see what happens. We have a disagreement as to whether the frame should be made at all, and she's not thrilled with the plan, but I'm hoping a prototype (her suggestion) will convince her that it is a good idea.
________________________________
12/26/2022
I saw for the first time Jimmy Stewart in "It's a Wonderful Life" at the Brattle St Theater. It helped me appreciate that I had an impact on many of my patients (I did not believe them when they told/thanked me) even if I did not succeed in having a significant impact on the US  health care system.
________________________________
THE BEGINNING OF RETIREMENT
12/22/2023 Day 1 of retirement
I awoke as a result of two dreams.  
Dream 1: I was at my first day of an internal medicine "fellowship' training program but I arrived 1-2 days late, and did not know where to go and I could not find the program director
Dream 2: I was going to take a train somewhere. First I wanted to buy something and the store had to find the item in the back of the store. I decided I could not wait for them as I only had minutes before the train left. So I was running down the stairs,  trying to get to the train platform, before getting on the train.  Awoke before I discovered if I missed/got on the train.
________________________________

——-> My last day of work was 12/21/2022.  <——-